Physiotherapy Facilities
Physiofit Physiotherapy is provided in our 2 main treatment rooms and rehabilitation gym. We have full disabled access for the Beech and Oak Room and can ensure that everyone has physical access to our services.
The Oak Room
This large room is equipped with a treatment couch and rehabilitation equipment including fitness balls, weights, wobble boards and cushions, the BOSU and trampet. It also has a large mirror which can be used for feedback for exercise technique.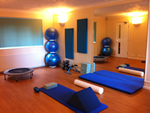 The Beech Room
All physiotherapy treatments can provided in this downstairs treatment room.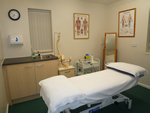 The Rowan Room
With the same facilities as the Beech Room, this room has the advantage of a curtained cubicle providing privacy for changing for Women's Health and other more personal physiotherapy treatments.
We also have use of a further 2 upstairs rooms:
The Willow Room
Massage sessions and acupuncture are provided in this relaxing space also used by Holisticalm.
The Chestnut Room
Designed for personal training this room is equipped with an overhead bar for suspension strap training, the Core Pilot for reformer Pilates training and small equipment for physiotherapy rehabilitation. It has a large mirror to help with technique correction.