Becky Walker
BSc (Hons) MCSP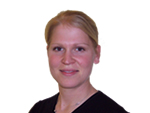 Becky offers
Physiotherapy
Pilates
One-to-one Pilates
Sports massage
Biomechanical assessments
Becky specialises in
Sports injuries
Sports injury rehabilitation
Pelvic Girdle Pain
Senior Physiotherapist and Pilates Instructor
Becky first qualified as a Sports Scientist in 2000, then went on to qualify as a Sports Rehabilitator in 2003, following this with a Post-graduate Diploma in Physiotherapy in 2010. She has 10 years' experience including working in full time professional sport for 5 years with a professional rugby union team and a premier league ladies football team, as well as her work in private practice.
With this background Becky specialises in the treatment of sports injuries and their rehabilitation. Becky specifically has an interest in the treatment and rehabilitation of the spine, shoulder and knee injuries. She offers kinesiology taping as part of her practice to aid with the kinaesthetic awareness of posture and alignment. Becky has also trained with The Pelvic Partnership to offer treatment for pelvic girdle pain.
Becky offers biomechanical assessments of walking and running which use video analysis to analyse functional movement during activity. She can also develop sports specific rehabilitation programmes after injury, to return the patient to any level of sport or exercise.
Becky qualified as a Modern Pilates Instructor in 2005 and teaches small and large group classes, and specialist ante/postnatal classes.